The Great Maratha



Shivaji Maharaj is considered the most powerful warrior in Indian history. An icon of fearlessness and courage, Veer Chhatrapati Shivaji Maharaj (Shivaji Maharaj) was born on 19 February 1627 in the Shivneri fort. At the time of Shivaji's birth, the Mughals ruled all over India. Shivaji was the only person who had chewed the cruel ruler like Aurangzeb and established the Maratha Empire.

Shivaji's father was Shahaji Raje Bhonsle and mother Jijabai. Jijabai was a very gentle and learned woman and was also Shivaji's first guru. Jijabai used to narrate stories of valor to Shivaji since childhood. From childhood, Shivaji used to listen to stories of Ramayana, Mahabharata and other valor. All these things had a huge impact on his life. When Shivaji was younger, Mata Jijabai used to teach him to fight in sports, fight with swords, that is why Shivaji Maharaj became a skilled fighter at a very young age.

At the age of just 16, Shivaji conquered the Torana fort of Pune and conquered it. Since then, the chapters of his bravery began to resonate throughout South India. The Mughal rulers were frightened to see Shivaji's increasing prestige and the Bijapur ruler Adilshah sought to arrest Shivaji Maharaj.
Shivaji entered the palace of Adilshah on the basis of his efficient policies and drove his father out. After this, Adil Shah asked his commander Afzal Khan to bring Shivaji's chopped head. Afzal Khan then called Shivaji to talk about reconciliation and tried to kill him with a hug.


Extension of sovereignty

Shivaji Maharaj did not invade the areas of Bijapur according to the conditions of Salvation of Shahaji, but he tried to increase his power in the south-west. But in this order, the kingdom of Javali was acting as a obstacle. The state was located in the far northwest of Satara, between the river Vama and Krishna. The king here was Chandrarao More, who received this manor from Shivaji. Shivaji asked the ruler Chandra Rao to join Swaraj but Chandrarao joined with the Sultan of Bijapur.
In 1857, Shivaji Maharaj attacked Javali with his army. Chandrarao More and his two sons fought with Shivaji Maharaj but in the end they were imprisoned but Chandrarao run away.


First encounter with Mughals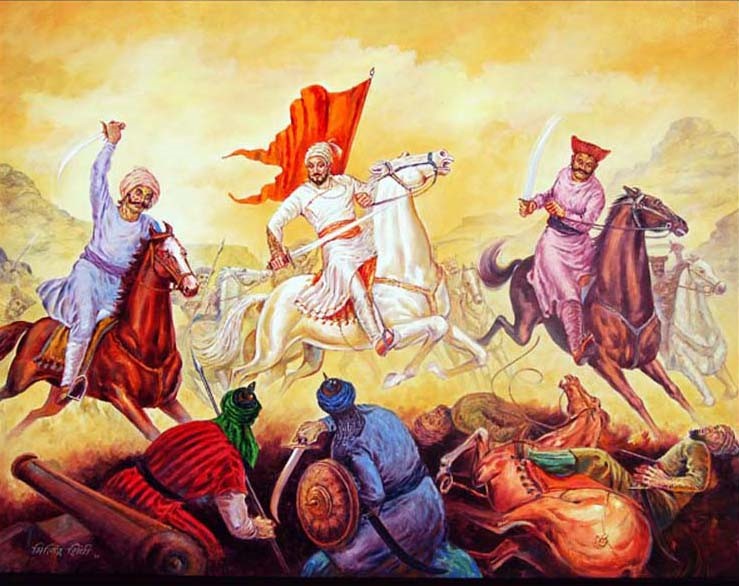 Shivaji Maharaj had both Bijapur and Mughal enemies. At that time, Aurangzeb was the Subedar of Deccan. At the same time, Sultan Adilshah of Bijapur died on 1 November 1857, after which an atmosphere of chaos arose in Bijapur. Taking advantage of this situation, Aurangzeb invaded Bijapur and Shivaji Maharaj attacked him instead of supporting Aurangzeb. His army attacked Junnar city and looted 200 horses with a lot of wealth.
Apart from 400 horses, four elephants from Ahmednagar, they also looted the fort of Gunda and Resin. As a result, Aurangzeb was upset with Shivaji Maharaj and the negotiations ended. On the orders of Shah Jahan, Aurangzeb made a treaty with Bijapur and at the same time Shah Jahan fell ill.