Shadow of Shivaji Maharaj
The system introduced by Shivaji Maharaj continued as it was in the time of Sambhaji Raje, in fact, Sambhaji Raje added things that were beneficial to Swarajya. Sambhaji Raje kept the discipline imposed on the army and officers by Shivchhatrapati for 32 years in a row even when a new generation of young men joined the army with more responsibility.
The most important difference between the Shivaji Maharaj's period and the Shambhaji Maharaj's period and the great pride for the Maratha rule is that during the Shivaji's period we had to fight on two fronts, but during the Shambhaji's period the enemy i.e. Aurangzeb descended to the south and the Marathas had to fight on at least five to six fronts under Sambhaji Raje. Sambhaji Maharaj fought against the Portuguese in Goa and they were very frightened of being assaulted by Sambhaji Maharaj, and this reflects in their letter to the British in which they wrote, 'Now-a-days Sambhaji is the most powerful person and we have experienced it'.

Chhatrapati Sambhaji Raje took the war strategy into his own hands and gave all the rights to the battlefield to all his young and experienced generals and also allowed the government officials who were willing to fight to ride and step on the ground.
Considering the period of Dhamdhumi (War Time), Sambhaji Raje handed over the charge of his representative post to his wife Maharani Sarkar Yesubai.

The Yesubai government used to carry out the administration from the capital Raigad with independent signatures.
Sambhaji Raje had also given the right to issue all gazettes and issue edicts regarding state system to Maharani Yesubai Saheb.
"Shri Sakhi Rajni Jayati." Yesubai used the seal given by the Sambhaji Raje.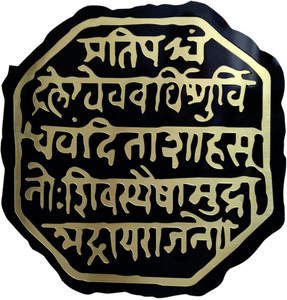 Later, while the eldest Shahu was in captivity, his 'Saptahazari' Mokasha was managed by Yesubai with the Persian inscription "Yesubai Walida-i-Sahu Raja".
In Short, the Summary is :-
1) In Shiva period, battles started on 2 fronts, but in Sambhaji Raje's period, battles started on 5-6 fronts.
2) During the Shiva period, the Marathas fought indirectly with Aurangzeb. During the Sambhaji Raje's period, Aurangzeb himself started fighting for Swarajya.
3) Sambhaji Raje kept the discipline of administration and army of Shiva period intact.
4) During the Sambhaji Raje's period, new officers started making impressions independently on their own personal responsibility.
5) During the Sambhaji Raje's period, the 'Pointless' quarrel of the government officials on the battlefield were stopped and only the warriors were allowed to have footholds and riders.
6) During the Sambhaji Raje's period, Sambhaji Raje himself accepted the slogans of the battlefield and independently created the title "Rani" and the authority in the administration was "Shri Sakhi Rajni Jayati." Yesubai gave to the governments.
The father built the steps, the son created empire, that's why "Baap se beta sawai ...!"

May the victory of Kshatriya kulavatans Chhatrapati Sambhaji Maharaj.